Reading time: 5 minutes
To some in the tech industry, Canada's recent Artificial Intelligence boom seems to have sprung up out of nowhere. However, Canada's AI goldrush traces back to the late 1980s when Yoshua Bengio came up with the idea of software that processes data in a similar way to the neurons of the human brain. The novel concept has since gathered momentum and come to redefine Canada's place in the modern world. Fast forward thirty years and Bengio, now a professor at the University of Montreal is a proud recipient of the ACM Turing Award, and the founder of Element AI, a Montreal-based artificial intelligence company. Despite being a relatively new start-up, Element AI has received over $100 million in venture capital since its inception in 2016 making it the largest company in Canada's AI scene. However, what about the smaller start-ups making a big splash on a fraction of the budget?
Let's have a look.
Automat: redefining the art of conversation

Think of AI, and one of the first things that spring to mind is automated chatbots. One start-up leading the way in customer-centred AI is Automat. Automat describes itself as a conversational marketing platform; the start-up aims to create artificial intelligence, capable of having personalized conversations with customers. The company's $8.3M in series-A funding resulted in L'Oréal's Beauty Gifter chatbot. Designed to run on Facebook Messenger, Automat learns its user's preferences and uses this information to make recommendations, much like a well-trained Sephora salesperson. However, unlike humans, AI can collect user data much more efficiently. This data can then be used by marketing teams for enhanced customer insights, without intruding on the customer's online behaviour.
Why we like Automat
What companies like Automat have done is to combine two tech trends, AI and instant messaging. This allows businesses to conduct large-scale conversational marketing campaigns.
ApplyBoard: Data led solutions to recruitment problems

ApplyBoard was founded in 2015 by brothers Martin, Meti and Massi. So far, the company has raised $13.5 Million following two rounds of funding.
It's not just eCommerce and marketing firms that benefit from increased investment in Artificial Intelligence. AI's ability to analyze, not just big data sets but also diverse data sets, such as the profiles of academic or vocational applicants, is changing the way both commercial and educational institutions recruit.
ApplyBoard's AI could help students make better choices
Understandably, some might be uncomfortable with the idea of AI determining a critical life decision such as which high school or university one will attend. However, unlike human decision-makers, AI does not have any conscious or unconscious biases and therefore has the potential to create fairer recruitment processes increasing the diversity of academic institutions and social mobility.
Waterloo-based AI start-up ApplyBoard helps international students apply to North American schools, colleges and universities. The software is geared towards big, diverse data sets and analyzes everything from an academic background, desired area of study and the student's finances to make recommendations. After the company's Series A funding the company grew from 35 people to 170, however, in terms of its recruitment, ApplyBoard may be the victim of its success. Although Canada is the third largest hub for AI experts, In April 2019 CBC revealed that the company is struggling to fill 70 open positions including high-end leadership and engineering positions. This trend has repeated throughout Canada where experts predict that there will be a deficit of 220,000 skilled workers by 2021. The Canadian government has implemented a fast track Visa system along with an extra $125 Million of funding to fill this skill deficit. If this plan works, who knows, it might be conceivable that one day we see the role of global recruitment being taken on by Artificial Intelligence.
Deep Genomics: The startup writing a new chapter in the history of medicine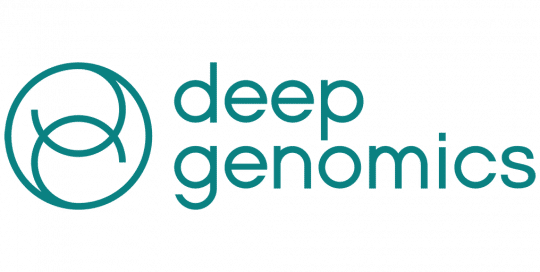 Interdisciplinary collaboration is the driving force behind a lot of the health industry's recent developments. In recent years the concept has revolutionized a health industry, where artificial intelligence startups are revolutionizing the fields of genomics and gene editing where vast amounts of complex data analysis are required. One such startup is Deep Genomics. The company was founded in 2015 and uses machine learning to trace potential genetic causes for disease by searching vast amounts of genomic data for mutations that may be related to certain conditions. Founder Brendan Frey is a professor at the University of Toronto and a specialist in both machine learning and genomic medicine. Interest in the company and its potential to revolutionize healthcare has enabled the company to raise $16.7 Million over three rounds of funding. Since completing its series A funding round in 2017, the company has set about leveraging machine learning to slash the time it takes to develop and bring new medicines to market.
Canada's socio-economic conditions are creating a desirable ground for AI seed money
When venture capital firms invest in a start-up, they are also investing in an economy and a society. Startup hubs like Montreal or Toronto thrive, in part to their economic climate. For example, Montreal is favoured by up-and-coming tech companies due to its affordable office space, Toronto has a government-led scheme to fast track skilled immigrants, and Canada's government has implemented a Canadian Artificial Intelligence Strategy.
Education is the key to unlocking (artificial) intelligence
It is also worth considering the role education plays in a thriving start-up scene. Canadian Universities have a long-standing history with AI innovations, but recently Justin Trudeau's government has demonstrated a desire to capitalize on this trend further. One initiative is the Vector Institute, a not-for-profit institution which is co-funded by the Canadian government and Canadian businesses.
All of this can only be made possible with funding and investment; that's why Venbridge works with tech companies in Canada to help them secure the funding they need in order to grow. If you're getting ready for your Seed or Series A and need cash to keep your growth trajectory, contact us and we'll be happy to chat on how we can make it happen.